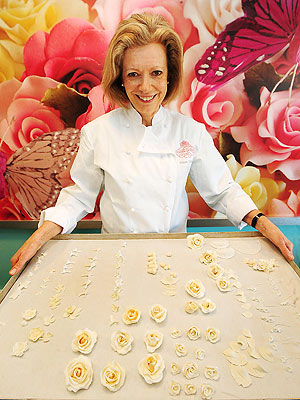 How sweet it is ? a multi-tiered, traditional fruitcake will serve as a centerpiece of the wedding celebration of Prince William and Kate Middleton. on April 29, it has been announced.
A British "floral theme" will adorn the creation baked by Fiona Cairns, who started her business around her kitchen table 25 years ago. The cake will also be decorated with the couple's new cipher ? most likely made up of their initials ? which will be unveiled on their big day.
Also on the refreshment menu for the reception: a chocolate-cookie cake, made by Royal Appointment after sweet-toothed William, 28, specifically asked for it. The McVitie's biscuit company is producing the dessert, made from a favorite recipe of the Windsors', for the party.
At her bakery in Leicestershire, Cairns explained that each of the tiers of icing-covered, brandy-flavored fruitcake will have a different theme. Detailed piping is being used to make 3-D scrollwork, flowers, leaves and other decorative touches, while the flowers of the four corners of the U.K. will be represented by the English rose, Scottish thistle, Welsh daffodil and Irish shamrock.
Cairns, 56, sent samples of different fruit cakes to William and Kate, who chose their favorite, and she has now started baking to allow the cakes the necessary four weeks to mature.
Cairns also reveals that Kate is in the driving seat as far as the planning is concerned. She met the princess-to-be at Clarence House, in London, six weeks ago. "She has guided us right from the beginning and has quite strong ideas," Cairns says. "That makes it much easier than a bride who has absolutely no idea whatsoever, which has happened in the past."
The 'Sweet William' Bloom
But Kate has clear ideas about the 16 different blooms ? including one called 'Sweet William". Says Cairns, who also makes a cake every Christmas for Paul McCartney and has created delicious baked goods for rock band Pink Floyd: "She knew very much what she wanted, and she brought us mood boards and told us what influences she would like us to use on the cake."
She adds, "There is the bridal rose, which symbolizes happiness, the oak and acorn ? which is an architectural detail around the room where the cake will be ? symbolizes strength and endurance. There is a lily of the valley, which symbolizes sweetness and humility, and ivy leaves, which symbolize marriage."
William's office at the palace has also announced that there will be a second cake to provide a sweet at the reception. The company, which made a cake for the Queen and Duke of Edinburgh's 60th wedding anniversary and has been commissioned for weddings and christenings of the royals, will roll out "a few hundred" slices for the party guests at the Buckingham Palace party.
In all, these will contain about 35 lbs. of chocolate and approximately 1,700 McVitie's Rich Tea biscuits.
Mary Elizabeth Winstead Avril Lavigne Natassia Malthe Lena Headey Amanda Righetti