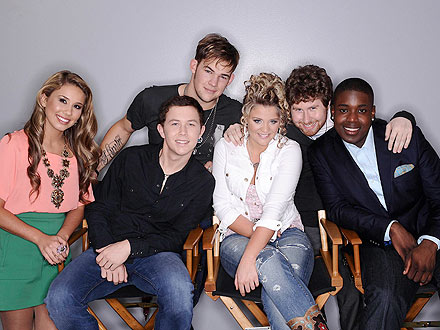 It's getting down to the wire!
On Thursday's American Idol, the six remaining finalists will be cut down to the top five ? but who will go home?
All of the contestants ? Jacob Lusk, Lauren Alaina, Casey Abrams, Scotty McCreery, Haley Reinhart and James Durbin ? pleased the judges with their tributes to Carole King on Wednesday's show.
Randy Jackson was so impressed with Durbin's gentle rock take on "Will You Still Love Me Tomorrow" that he said, "This guy just might win the whole thing."
After landing in the bottom last week, Lusk performed "Oh No Not My Baby" with some bouncing dance moves.
"It's about time you shook your tail feathers," Steven Tyler said. "When you strut like that, that's the magic."
Alaina, who was tickled to meet Miley Cyrus, sang a sweet version of "Where You Lead" and brought "tears to my eyes," Jennifer Lopez said.
McCreery, who was criticized last week for appearing complacent, stepped it up with a slowed-down, country version of "You've Got a Friend."
"You never sang better," Tyler said.
Reinhart sang "Beautiful" and thrilled the judges. "I just saw God," Tyler said. Lopez singled Haley out as "one of the best voices" of the season.
And finally, Casey Abrams performed an energetic and colorful version of "Hi De Ho." "You definitely found your niche," said Tyler, adding that it was "the best mother ? (pause) ? lovin' show I've seen."
With so much praise it's hard to know who will be called out on Thursday's elimination show, which airs (8 p.m. ET) on Fox.
'; }; Poll.question_template = function() { return '
#{text:Poll.markdownToHtml}
'; }; Poll.answer_template = function() { return '
#{prebuilt_enlarge}
'; }; Poll.closed_poll_template = function() { return '
#{prebuilt_questions}
'; }; Poll.closed_question_template = function() { return '
#{text:Poll.markdownToHtml}
'; }; Poll.closed_answer_template = function() { return '
#{text:Poll.markdownToHtml}
#{percentage:Poll.drop_decimals}%
'; };
'); var targetVideoWidth = 466; brightcove.createExperiences(); /* iPhone, iPad, iPod */ if ((navigator.userAgent.match('iPhone')) || (navigator.userAgent.match('iPad')) || (navigator.userAgent.match('iPod')) || (location.search.indexOf('ipad=true') > -1)) { document.write('
Laura Harring Sara Foster Lindsay Lohan Lauren Bush Alice Dodd