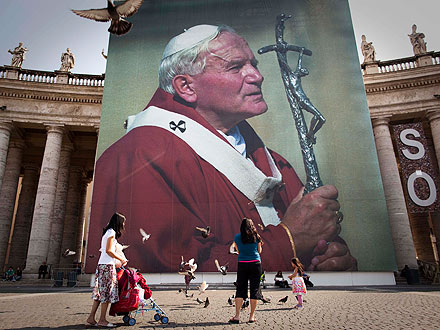 Pope John Paul II is one step closer to sainthood.
Pope Benedict XVI beatified the late Catholic leader on Sunday morning in Rome (the first step in the process of declaring someone a saint). A crowd of 1.5 million gathered in St. Peter's Square to witness the solemn celebration.
A giant photo of a young John Paul II was revealed as the crowd cried and applauded. "He restored to Christianity its true face as a religion of hope," said Benedict in his homily.
"John Paul was a wonderful man and it's a privilege to be here," Anne Honiball, a nursing home administrator from the U.K. told the Associated Press. It's wonderful to see people from all across the world."
"We missed the royal wedding," she continued, "but we are Catholics and this was a bit more important, I suppose."
'); var targetVideoWidth = 466; brightcove.createExperiences(); /* iPhone, iPad, iPod */ if ((navigator.userAgent.match('iPhone')) || (navigator.userAgent.match('iPad')) || (navigator.userAgent.match('iPod')) || (location.search.indexOf('ipad=true') > -1)) { document.write('
Kate Moss Jennifer Aniston Bar Refaeli Dita Von Teese Lisa Marie